Question: How to rebuild an aerofly under Windows?
Answer: If you want to reinstall an aerofly on the same Windows-PC than please do not use assistent programs or a RegCleaner for deinstalltion. Please also do not use the Windows-Deinstaller under "System-Preferences / Software".
Please proceed as follow: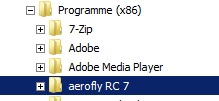 Step 1:
Use the Windows Explorer to delete the folder "aeroflyFS" or "aeroflyRC8" or "aeroflyRC7" at the programm directory C://programs (X86)/…
Step 2:
Use the Windows Explorer to delete the user folder "aeroflyFS" or "aeroflyRC8" or "aeroflyRC7" at the user directory under
c://users/your username/documents/
Step  3:
Reboot your computer. If you still see the aerofly Start-Icon at the desktop please delete the icon.
Step 4:
Now you can install the aerofly once again. Use the DVD. If you purchased a download at the IKARUS shop you can get the download link and your key in your  IKARUS-Shop account. (Read more about)
Please follow the recommended installation  on C:/
Please also note the
Step-by-Step-Manual for a first-time-installation
Step 5:
Before you start the activation please check an availabe update.
If you drive an available update before activation you only have to activate onetime.


Step 6:
The last step of the installation is the activation. If you want to check the PC before please do not acivate the aerofly at the end of the installation. Please click instead on "activate later". After that you can fly a single aircraft and you can see how it works. Later on you can activate via the main menu under "activation" anytime.
If you get an error code after activation please write down the message or code an check these site:
www.ikarus.net/en/errorcodes
Please note: If you see a failure message  starting aerofly first time  like "main executable is not running" than please check the grafikcard driver at first.
All failure masseges are listed here