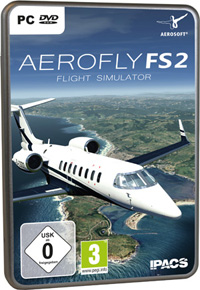 Answer: Yes, that works! To use the IKARUS RC/FlightController #3036012 with the aeroflyFS2, you only have to calibrate the USB controller directly in the program. Please set all trimmers into neutral position and follow the instructions below:
Calibration of the RC/FlightController #3036012 in aeroflyFS2
Open the blue aeroflyFS2 main menu and select "Settings" and "Settings Controller".

Then click on the detected USB device (left bottom).  The IKARUS Controller #3036012 will be shown as "PPM".

In the next window move both joysticks and the left switch and the right encoder. At the end no more bars should tremble and you should see all bars moving.

If this is working please click on the "crosshairs" in the upper right corner and follow the new instructions. First move all axes in all directions up to the maximum (!) and also move the switch and encoder again!

Finally click on "OK" and check all trimmers in mid position and click on "OK" again. The back triangle takes you back to the control axes assignment.

Now check the assign of throttle, rudder, aileron and elevator. If you want to assign the elevator new then click on "High" in the "Elevator" line and drag the elevator on the Commander. If the recognition does not work immediately, also move the trimmer of the elevator function in the direction "High".

Finally, please change to the left tab "View" and delete all 8 entries in the two lines "rotate". Click on all highlighted presets and then press the DEL key. In the line "Reset" you can set the function to the space bar. To do this, click on the default setting and then press the space bar.

After that you can fly in the aeroflyFS2 with the IKARUS-Controller #3036012!