Info Download-Installer
General information about the IKARUS-Download-Installer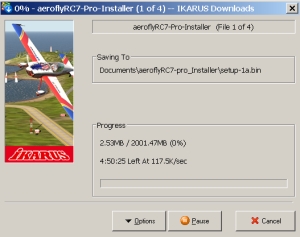 On this page you`ll find  information about installing aerofly flight simulators with the IKARUS Download Installer.
At the end of this page you`ll find special tips for different browers or anti virus software.
Step 1: Download-Installers and Productkeys delivery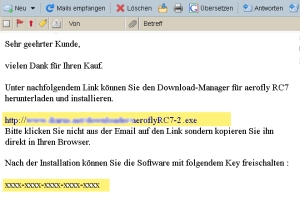 After payment receipt you will get a confirmation mail with a link to the download installer and a seperate mail with the product key for activation.
Step 2: Saving the Download Installers temporarily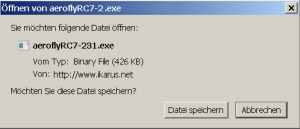 Because our flight simulators requires up to 14 GB of data the download of this datas is managed by a download installer. It is a small  executive file with about 500 kB.
With the confirmation email you get this utility as a link. Click on the link to save the intaller on your computer. If your browser displays an error message please copy the link from our email and paste it  into the address line of your internet browser.  In both cases the Installer will be saved in the folder "Downloads" on your computer.
Step 3: Start Download-Installer
O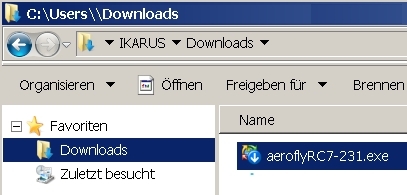 pen the "Downloads" folder on your computer and doubleclick the executive file. At first the download installer will save all datas on your computer.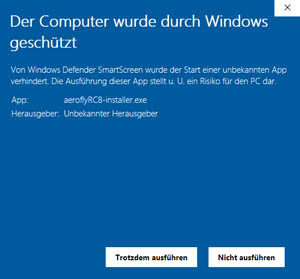 If your virus scanner or windows defender starts blocking the file please check the name and procced.
The RC8-Installer is named: DL-Installer-aeroflyRC8.exe
The RC7-Installer is named: aeroflyRC7-DownLoadManager.exe
If there is an interruption of the internet connection the installer will resume automaticly. Depending on the bandwidth of your internet
connection it will take several hours to download all files. Please note that the installer also works in the background. You can still use other programs on your computer. But please talke care about a stable internet connection.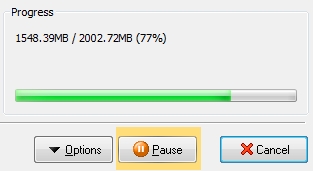 With the pause button you can pause the download at any time if you wish. To continue click the play button again. After some time the progress bar will  be updated
Step 4: Program Installation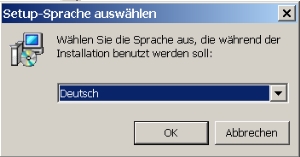 The last file of the managed download  is the auto run  "Setup.exe" of the flight simulator.
At first you will be asked for the program language. You can select the language and continue or cancel the installation if you want to do this later.
You can restart by double-click  the "setup.exe" at any time.
Follow the further instructions. It is strongly recommended to use the suggested installation path.
At the end of the installation you`ll have an icon on the desktop of your computer to start the program by a doubleclick.