RC8 purchase
aeroflyRC9  for Windows
Available as a download or RC8 upgrade!
The aeroflyRC9 is available from now as a download for Windows 8/10/11. You can get the full version and the discounted RC8 upgrade directly in the IKARUS shop
As a download: only 199,- Euro
271 models, 59 sceneries, fantastic features and 10 menu languages:
DE – EN – FR – SP – IT – NL – DK – CZ – PL -RU

RC8

full version for Windows:
On DVD or as a download
The aeroflyRC8 is avilable on DVD or as a Download for Windows. Both versions are equivalent and both versions are available via the IKARUS-Shop from now!
On DVD or as a Download: only 199,- Euro
With 10 menu languages: EN – DE – FR – SP – IT – NL – DK – CZ – PL -RU


RC8 for Mac:

As  an App from the AppleAppStore
The aeroflyRC8 is also available as an app for Apple Mac computers. Because Apple Mac computers currently do not support VR headsets, fly the aeroflyRC8 on your Mac in a brilliant resolution and in monitor mode with a super-sharp retina display support!
With 10 menu languages: EN – DE -FR – SP – IT – NL – DK -CZ – PL -RU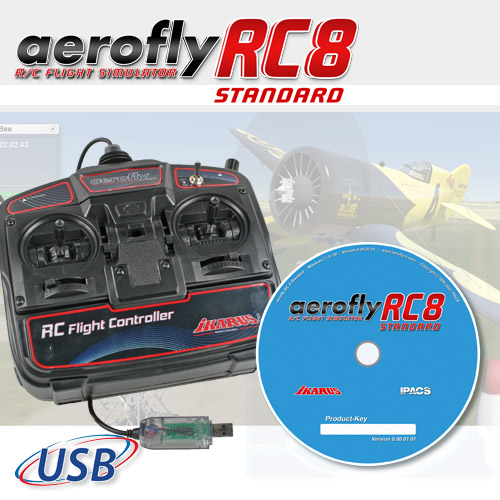 NEW: The aeroflyRC8 STANDARD is here! 
25 Models / 4 Sceneries / 4D landscape
All models are instantly scalable!
Fyling 2D on a PC monitor
Flying real 3D with  VR Headset (Virtual Reality)
FPV-Parcour for multi copter
Helis, jets, multi copter, aerobatic, glider, scale models
As a complete  set with the  IKARUS RC FlightController
10 menu languages: EN – DE -FR – SP – IT – NL – DK -CZ – PL -RU
Set with flight controller for only 99,- €


Upgrades for aeroflyRC7 user

For all aeroflyRC7 users there are good news right from the beginning! You can benefit from discounted upgrades. One from RC7-PROFESSIONAL and another from RC7 ULTIMATE to the brand new aeroflyRC8 .
For Windows: Upgrades from aeroflyRC7 to aeroflyRC8 as a download in the IKARUS-Shop
For Mac: Upgrade bundle for aeroflyRC7 user to get a discounted aeroflyRC8 as a download via the AppStore
Content of aeroflyRC8

246 models / 54 sceneries / 8 4D sceneries
normal mode for PC-Monitor (Win and Mac)
3D mode for VR-Headsets (Only for Windows)
FPV-Parcourse for multicopter
Racetrack for all models
Auto gyros, motor trikes, retractable glider engine, Flettner roto wing
Helis, Jets, Multicopters, Aerobatics, Glider, Scale models, sea planes, true scale models
Super real reflections and water effects, super real dynamic effects
For all IKARUS-RC FlightController or USB-Interfaces
System requirements for Windows
Minimum (recommended) system requirements
64-Bit Win 7/8/10
DualCore 2,4 GHz (QuadCore 3,0 GHz)
RAM 4 GB (8 GB)
Free Disc Space: 8 GB
3D graphics card with 1 GB (2 GB) with Open-GL 4.0 or higher
Only for VR mode: video card with 4 GB. with Open-GL 4.5 or higher
The RC8 is optimized for Oculus-Rift and HTC-Vive Headsets
A version for AppleMac computer is available via the AppleAppStore. The aeroflyRC can´t be installed under Parallels or also Linux.
System requirements for Mac-OS
macOS 10.14.2 Mojave (or higher) recommended
macOS 10.13.6 High Sierra
macOS 10.12.6 Sierra
Supported Hardware:
iMac: iMacs with AMD-GPUs since end of 2011
Mac Book Pro: all versions since 2013
Mac Book Air: all versions since 2013
Mac Mini: all versions since 2014
Mac Book Retina: all versions since 2015
eGPU: alle official eGPU-modules based on AMD-GPUs
Some of the more complex 4D-sceneries require a dedicated AMD or NVIDIA GPU
Availabe via the AppleAppStore