RC8 requirements
System requirements
Due to the detailed 3D-graphics and the time consuming physics simulation it is highly recommended that your PC or Mac system meets the following minimum computer specifications to achieve a smooth simulation speed. For best performance and when using aeroflyRC8 with high quality graphic settings its recommended that your PC or Mac meets at least the recommended requirements.
System requirements for Windows
Minimum (recommended) system requirements
64-Bit Win 7/8/10
DualCore 2,4 GHz (QuadCore 3,0 GHz)
RAM 4 GB (8 GB)
Free Disc Space: 8 GB
3D graphics card with 1 GB (2 GB) with Open-GL 4.0 or higher
Only for VR mode: video card with 4 GB. with Open-GL 4.5 or higher
The RC8 is optimized for Oculus-Rift and HTC-Vive Headsets
A version for AppleMac computer will follow via the AppleAppStore. The aeroflyRC can´t be installed under Parallels or also Linux.

The aeroflyRC8 is multilingual
Select your menu language at the installation or later.
You can control the menu in english, french, spanish, italian, netherlands, danish or german!

Universal for RC-radio, USB-commander, gamepads or mouse!
Universal for RC-radio, USB-commander, gamepads or mouse

When it comes to selecting the control device the user enjoys total freedom! The aeroflyRC7 recognize any USB gamecontroller, whether it's an IKARUS commander or an RC transmitter with USB adapter.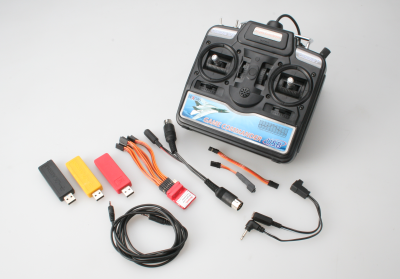 • IKARUS RC Flight Controller (#3036012)
• IKARUS USB-Interface (#3031010) oder (#3031020)
• IKARUS SimConnector (#3031100)
• All aeroflyRC7 or aerofly5 GameCommander
• All aerofly Professional GameCommander
• All easyFly4 FullVersion Commander (not SE-Version)
• All black USB Interfacesticks by IKARUS
• All red SecondPlayer-Adapter by IKARUS
• All yellow easyFly USB Interfacesticks (max. 6 Channels)
• The USB-GameCommander by Realflight
• The Simulus-Commander by Pearl
• USB Gamepads, e.g. the USB-Gamepad easyFly3
• A USB Computer Mouse
General Note: All Commander, joysticks and interfaces which are automatically detected by windows as an USB input device and which can be calibrated as game controller by the windows control panel are usable. Because the RealFlight and Phoenix interface cable are not recognized as game controller they are not usable as interface for an R/C radio.