aerofly News
NEW: aeroflyRC9 for macOS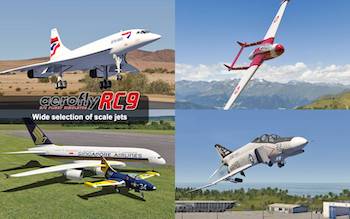 We are happy to announce that aeroflyRC9 is now available in the Apple AppStore.
Aerofly RC 9 now has native support for the new Apple M1 Mac computers resulting in a much better performance compared to previous versions.
You may choose from a wide variety of models, like aerobatic airplanes, helicopters, jets, gliders, scale models and quadrocopters, FES glider, 4D aerobatic with reverse thrust, LED lights for night flying and much more.
The aeroflyRC9 joins fun and training just like game and serious simulation. Have fun and fly at whatever time you like.
aeroflyRC9 in the AppleAppStore 
New at the Shop: HoTT Interfacesets
From now on you can get the ready programmed HoTT receivers and HoTT-USB interface sets  for the aeroflyRC in the IKARUS shop!
NEW: From now on we offer sets with the Gr-12 and Gr-16! All receivers are also useable for RC models!
NEW:Fly aeroflyRC with your FrSky
You have different possibilities to connect a FrSky radio  to the aeroflyRC. You can use the 3.5 mm trainer port at the FrSky Taranis or the S.Bus port at one of your Horus receiver
On this page  you`ll find tips on the basic setting of FrSky Taranis and Horus for simulator operation.
NEW:

Fly aeroflyRC with your Powerbox-Core

You have different possibilities to connect a Core transmitter from Powerbox-Systems to the aeroflyRC. In all cases you use your core receiver for a wireless transmission of the control signals.
On this page  you can find tips on the basic setting of the core for simulator operation.
The end of Windows7 is coming!
As Windows will stop the support of security updates for Win7 on January 14th 2020, we want to inform you as aerofly user in time about the possibilities of a conversion. Please note the following infos about your flight simulator.
NEW:

aeroflyRC8 User sceneries

aeroflyRC user start making scenes for the new aeroflyRC8. You can download and fly the beautiful scenes here on this website for free! Fly at viewing points individual airflields or famous slopes.

NEW:

aeroflyRC8 supports AVIrem StickMover

The StickMover (#3036015) is a training USB device, which makes the executed control inputs of a flight figure perceptible. The sticks of the SickMover are actively controlled by the aeroflyRC8.
The connection is very simple. After installing the free AVIrem software on the Win-PC or Mac the StickMover only has to be calibrated. From now the aeroflyRC8 detects a StickMover automatically.

NEW:

aerofly

RC8

for Apple-Mac-Computer is here!

The aeroflyRC8 is now also available as an app for Apple Mac computers. Because Apple Mac computers currently do not support VR headsets, fly the aeroflyRC8 on your Mac in a brilliant resolution and in monitor mode with a super-sharp retina display support!
Select multiple menu languages: EN – DE – FR – SP – IT – NL – DK
The aeroflyRC8 is here! The world-famous and successful RC7 has been further developed in every aspects. New model types and a very large number of models were also added like great new features. With the VR technology, real immersive experience is possible in the aeroflyRC from now!
246 Models / 54 sceneries / 8x 4D sceneries
2D mode with a PC-Monitor (like flying in RC7)
10 Menu languages!
EN-FR-DE-IT-ES-DK-NL-CZ-PL-RUS
Immersive experience for VR headsets (Virtual Reality)
FPV track for multicopters
Race track for all models
For RC models, flying optimized flight physics engine from the famous aeroflyFS2
Autogyros, power trike, retractable glider engine, Flettner roto wing
Helis, jets, multicopters, aerobatics, gliders, scale models, sea planes, true scale models
Super real surface and water reflections, fantastic dynamic effects
Usable with IKARUS RC/FlightController or USB-Interfaces
NEU: RC7- Usermodelle und -Setups

Der Modelleditor im aeroflyRc7 bietet eine unglaublich große Bandbreite möglicher Modifikationen. Sie können darüber Ihr Modell an Ihre Bedürfnisse anpassen. Einige User haben auch schon selber komplette Modelle erstellt und stellen diese hier zur Verfügung!
Hier geht es zur Downloadseite der User-Modelle
NEU: RC7-Handyfoto-Szenerien

 Viele Smartphones verfügen über eine 360-Grad- oder auch Global-Fotofunktion.  Machen Sie mit und erstellen Sie Ihren Modellflugplatz oder Lieblingsplatz für den aeroflyRC7! In unserem ausführlichen Szenerie-Workshop zeigen wir, wie man aus einem solchen Handyfoto eine Szenerie für den RC7 erstellen kann.
Hier geht es zur Downloadseite der Handyfoto-Szenerien
NEW bundles at the IKARUS shop!
aeroflyRC7 on DVD with commander or interfaces!
From now you can buy one of 10 ready to fly bundles at our shop!
All bundles based on an aeroflyRC7 DVD with customized accessories. You can fly with our USB R/C FlightController (shown at the picture left) or you can use a bundle with one of our interfaces to fly with your own radio.
Actual Infos about Windows 10
The flight simulators aeroflyRC7 and aeroflyFS runs under Windows 10.
But an operation systems upgrade is better to think twice.
Please note all actuel infos about Windows 10 here.